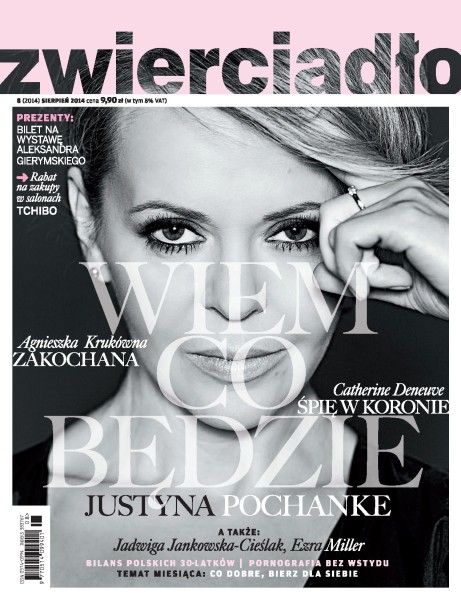 Bohaterką okładkową wydania jest dziennikarka Justyna Pochanke. Jaka jest poza anteną? W wywiadzie dla Zwierciadła opowiada o walce z bezsennością, sporcie oraz tym jak wydarzenia polityczne wpływają na jej prywatne życie. Czy w pracy ulega emocjom? "Dom, jeśli jest mocny, to się człowiek pozbiera. Ja taki mam. I myślę sobie, że jak będzie koniec świata, to niech mnie zastanie w tym domu".
Najciekawsze tematy bieżącego wydania:
Temat miesiąca: Sen, tlen, ruch, dobra dieta i przyjaciele czyli wszystko co nas wzmacnia.
Bilans polskich 30-latków: Pokolenie transformacji, trochę cyfrowe, trochę analogowe. W czym tkwi jego siła?
Reportaż: Dziewczyny z Fundacji Itaka. Codziennie dotykają najboleśniejszych spraw. Czy w tym wszystkim potrafią odnaleźć siebie?
Porozmawiajmy o seksie:Pornografia bez wstydu ? – czy w przyszłości przestaniemy spychać sex w sferę brudu i ciemności ?
Spotkania: Agnieszka Krukówka, Ezra Miller, Jadwiga Jankowska-Cieślak i Catherine Deneuve.