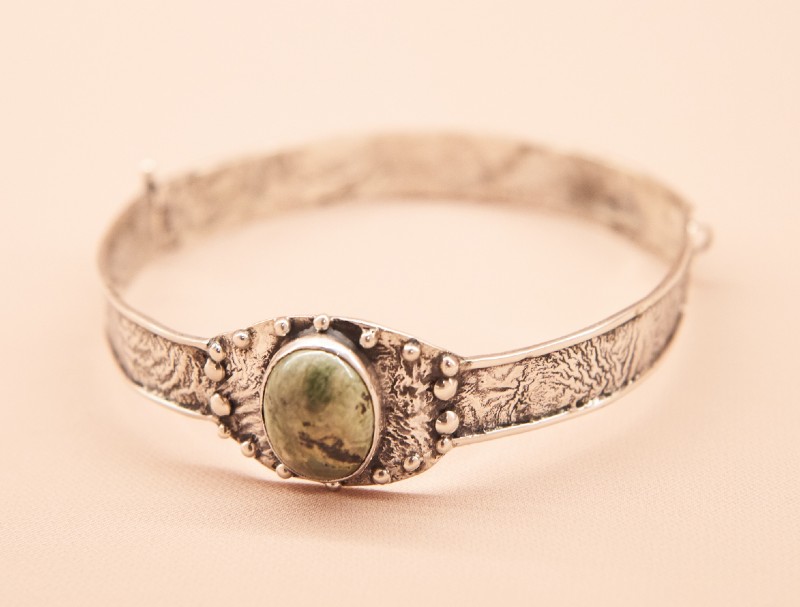 "Spółdzielnia ORNO. Biżuteria" to wystawa, którą można obejrzeć w Muzeum Warszawy. Przedstawia charakterystyczny styl powojennej polskiej biżuterii. Tłumaczy też fenomen spółdzielni  jako unikalnego modelu pracy, gdzie każdy rzemieślnik mógł być jednocześnie projektantem i artystą.
Styl powojennej sztuki ozdobnej, nazywany jest często "ornowskim". Dlaczego? Bo wykształcił się w ORNO – Spółdzielni Pracy Rękodzieła Artystycznego. Instytucję założono w Warszawie w 1949 roku. Od początku wyróżniała się na tle podobnych przedsiębiorstw działających w tamtych czasach. Spółdzielnia ORNO była  jedyną spośród innych zrzeszonych w Cepelii (Centrali Przemysłu Ludowego i Artystycznego), która konsekwentnie realizowała wizję rzemieślnika -artysty.
W ramach szkoleń, uczniowie Romualna Rochackiego, założyciela spółdzielni, odbywali spacery po zrujnowanych ulicach Warszawy i szkicowali ocalałe detale architektoniczne oraz zabytki kowalstwa artystycznego: bramy i kraty. Stały się one inspiracją ich późniejszych prac – mówi kuratorka wystawy Agnieszka Dąbrowska.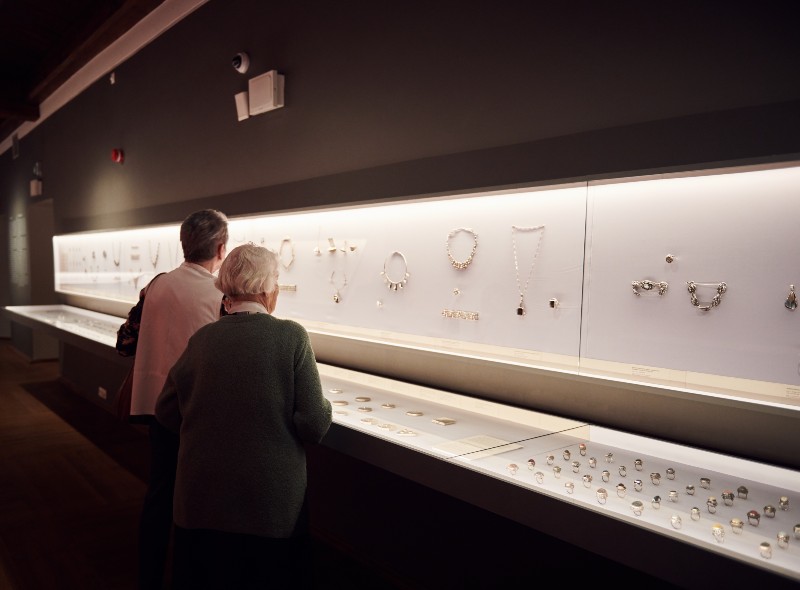 Przez pół wieku w pracowniach ORNO powstawały: pierścienie, bransolety, naszyjniki, wisiory, klipsy, spinki do mankietów oraz drobna galanteria, taka jak klamry do włosów, puderniczki, perfumetki czy noże do papieru. Wykonywane  precjoza były wyrazem silnej potrzeby odbudowy życia po wojnie oraz tęsknoty za pięknymi przedmiotami w codziennym życiu.
Wystawa jest pierwszą tak obszerną prezentacją dorobku ORNO.
Szeroka perspektywa historyczna pozwala przybliżyć współczesnemu widzowi sposób funkcjonowania spółdzielni w trudnych, powojennych warunkach, ograniczonej dostępności materiałów, biurokracji i procedur czy dopuszczania wzorów do realizacji. Dzięki temu wystawa ukazuje związek losów ORNO z przemianami społecznymi i historią miasta – mówi kuratorka  Monika Siwińska.
Zgromadzone na wystawie przedmioty to ponad 1600 eksponatów: wyroby artystyczne, dokumenty, zdjęcia, pamiątki, opakowania i ulotki reklamowe. Wszystko to tworzy barwny i wielowątkowy obraz historii spółdzielni. Wystawa pokazują również przemiany związane z modą i stylem życia.
Stylistykę srebrnych kosztowności, które powstawały w ORNO, charakteryzowały: masywność, zdobienia prostymi technikami, widoczne ślady ręcznej obróbki metalu. Bransolety, naszyjniki, brosze, pierścienie wyroby galanteryjne oraz insygnia władzy (dla rektorów, urzędników i biskupów) robione były głównie z oksydowanego srebra, bo był to jedyny łatwo dostępny materiał – złoto było ściśle reglamentowane.
Do ozdabiania biżuterii stosowano m.in.: nefryty, bursztyny, perły, szkło, skórę, drewno (czarny dąb sprawdzał się jako oczka w pierścieniach).
Wyroby ORNO znane  były w całej Polsce. Klienci cenili wysoką "przedwojenną" kulturę obsługi w galeriach. Spółdzielnia zatrudniała jedynie absolwentów wyższych i średnich szkół artystycznych oraz rzemieślniczych.
Więcej o wystawie na: https://bit.ly/2LAAbYp
Termin: 17 maja – 18 sierpnia 2019 r.
Miejsce: siedziba główna Muzeum Warszawy
Czas: od wtorku do niedzieli, w godz. 10.00 – 19.00
Ceny biletów: 7-10 zł
Kuratorki wystawy: Agnieszka Dąbrowska, Monika Siwińska (Muzeum Warszawy),  Anna Wiszniewska (IS PAN).
Wystawa ma bogaty program towarzyszy: 
Program edukacyjny – kierowany zarówno do dzieci, młodzieży oraz  dorosłych – zawiera m.in. warsztaty złotnicze, lekcje oraz spacery po Rynku Starego Miasta.  
Weekend w muzealnym Kinie Syrena to szansa, żeby zobaczyć filmy fabularne i dokumentalne poświęcone projektowaniu i projektantom.
Cykl spotkań i wykładów ze znawcami rzemiosła, złotnictwa i historii spółdzielni ORNO to okazja do dyskusji o polskiej sztuce użytkowej.
Spacery ze szkicownikiem śladami artystów, dają możliwość szkicowania dekoracji staromiejskich kamienic pod okiem ekspertów.
Więcej na: bilety.muzeumwarszawy.pl